Consultation
Your custom interior design road-map
Consultation is an in-home service, typically lasting around 1-3 hours depending on the size of the space and the data that needs recorded. The results are delivered in the form of an online webpage called 'an e-List'. (See example at the bottom of this page)
Read the steps below to understand what the process is like and what the results include,
or watch the video to have us easily explain it to you (right).
Step one: Phone EVALUATION
Time: 5-20 minutes
A phone call between the client and our designer will occur, and a brief overview about the space will be discussed. Basic questions will be asked, and an estimate will be given based on the number of rooms and optional upgrades. (To view our menu, please scroll down to the bottom.) If the client wishes to move forward, a date/time are chosen and an invoice will be sent to the client's e-mail.
STEP two: paying the Invoice
TIME: Required 24 Hours before scheduled meeting
Our invoices are payable online through either PayPal or Credit Card, and the payment process can be seen by viewing the slideshow below.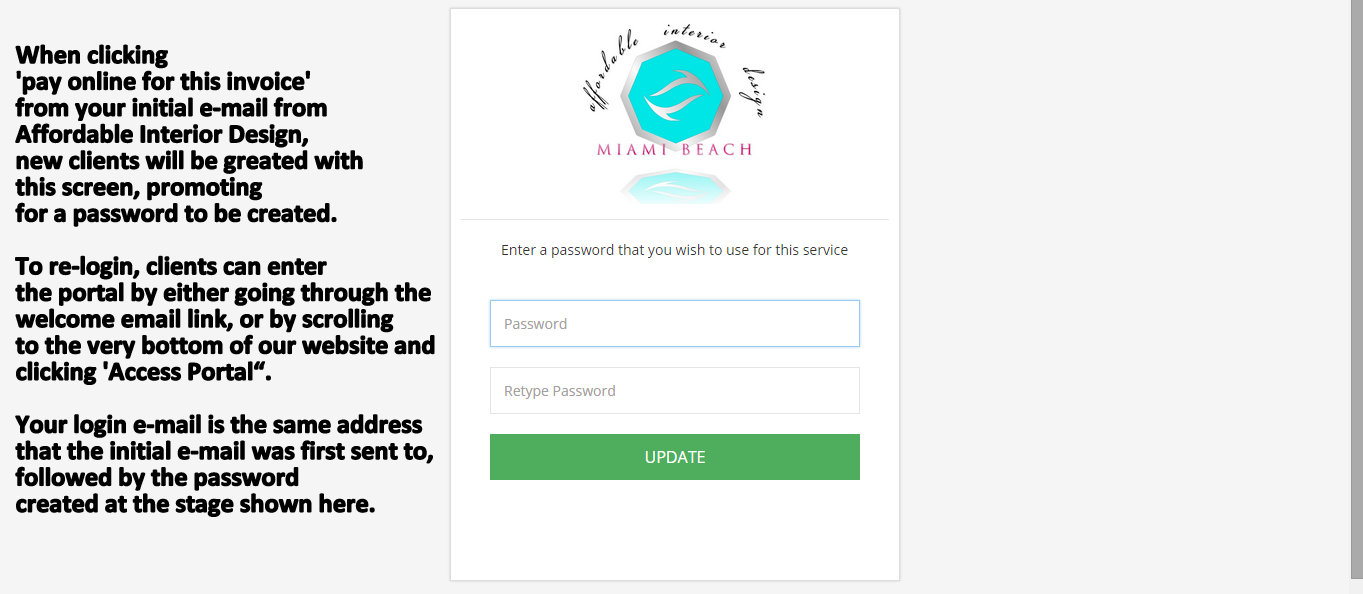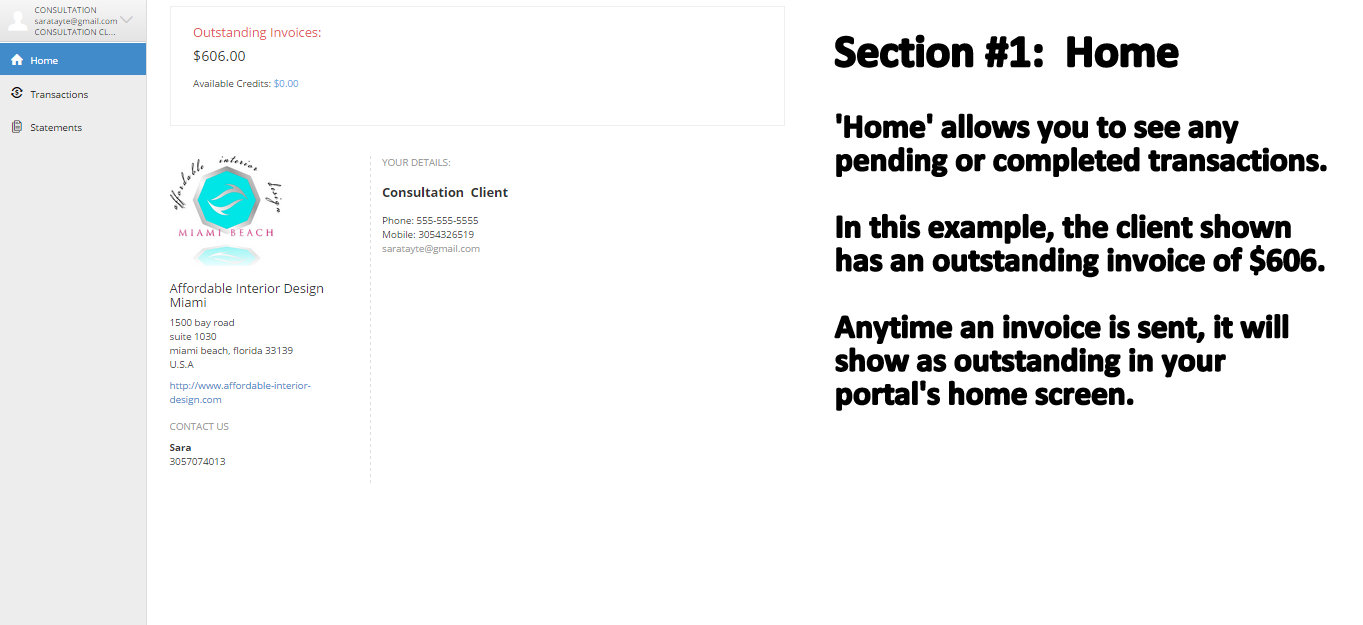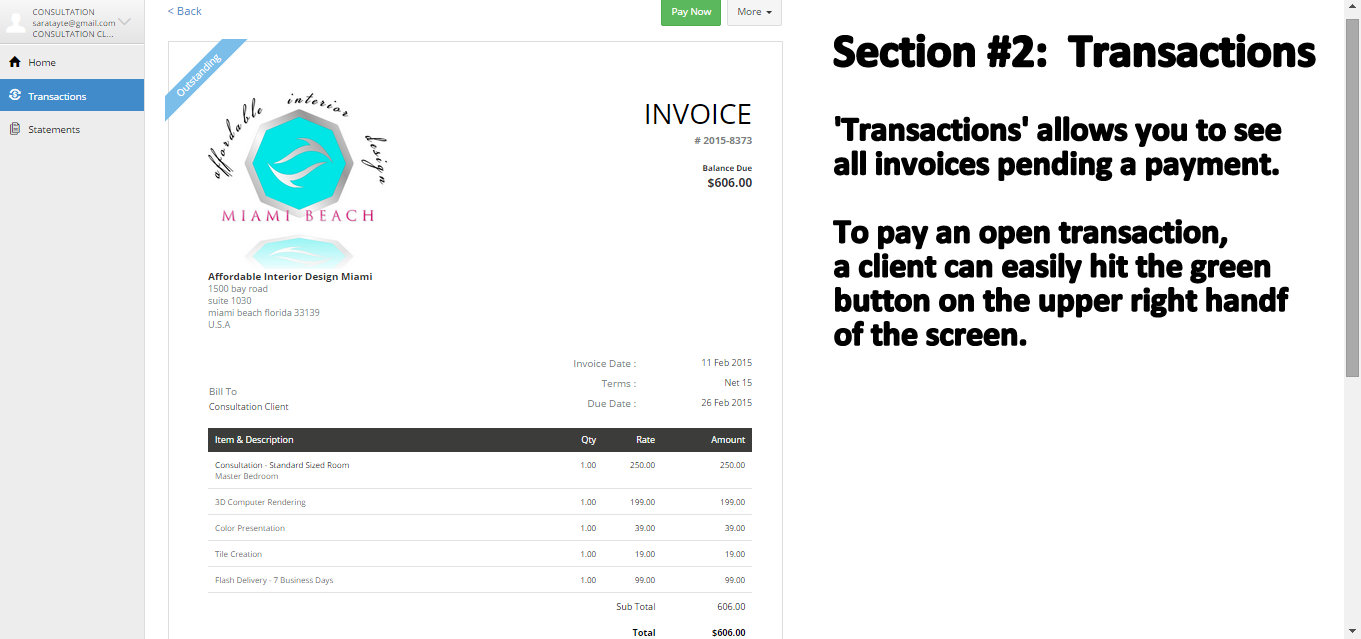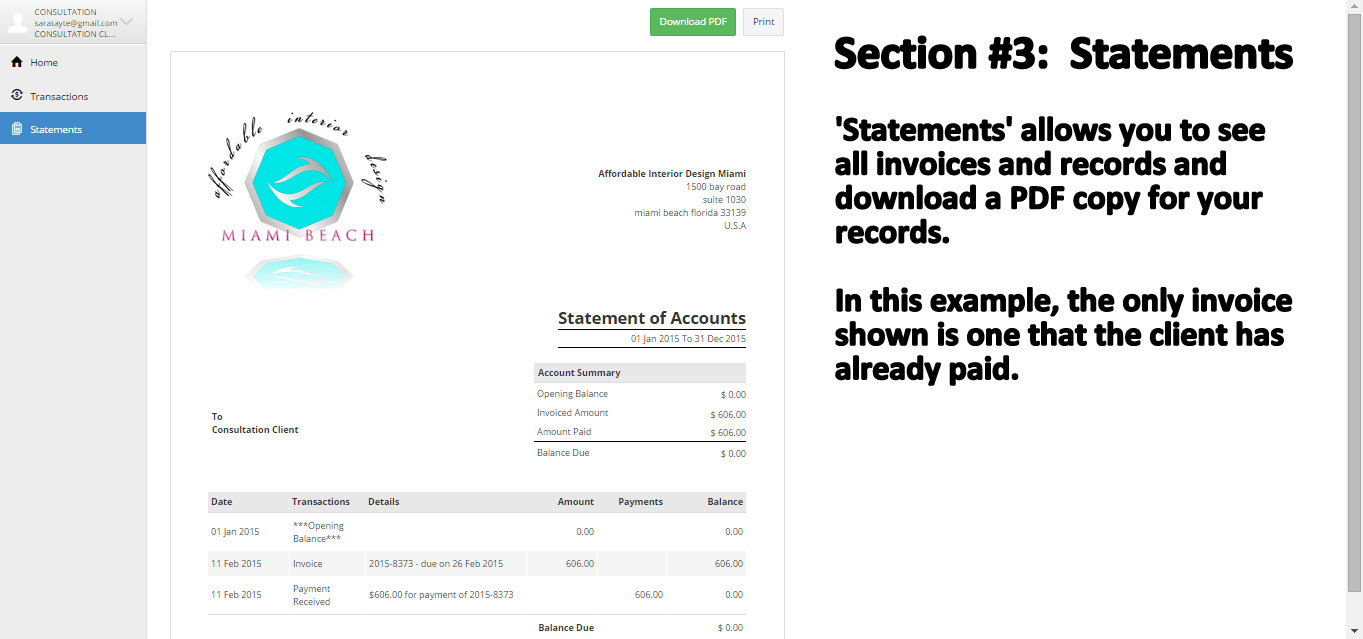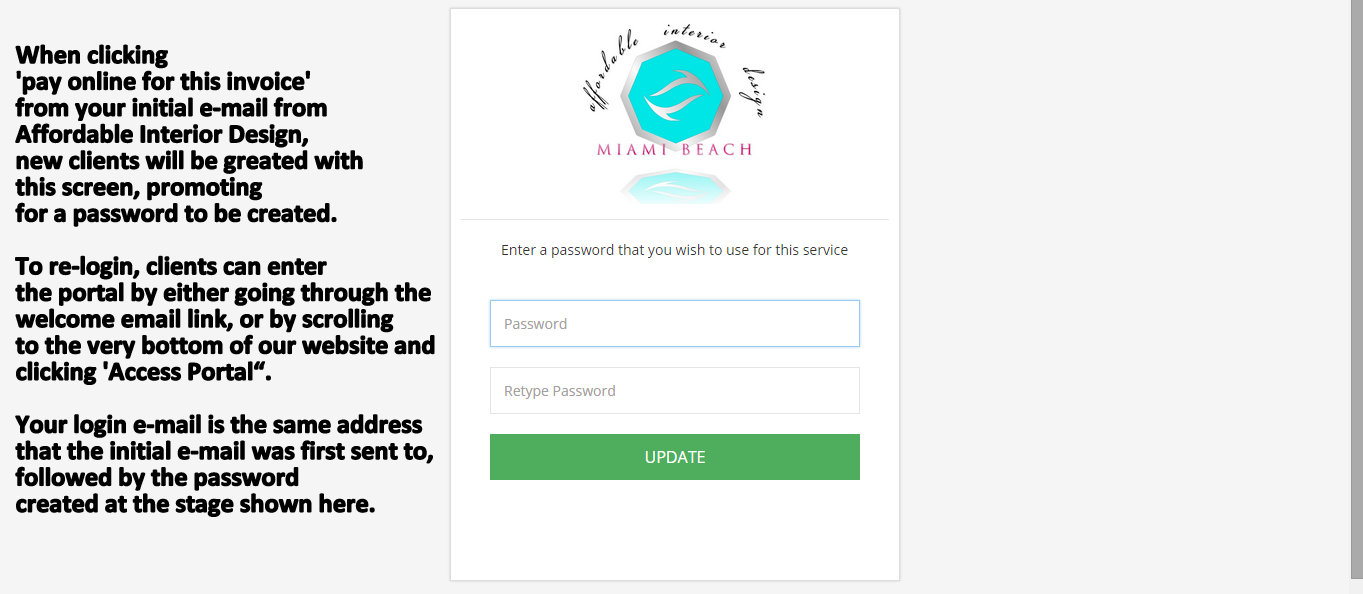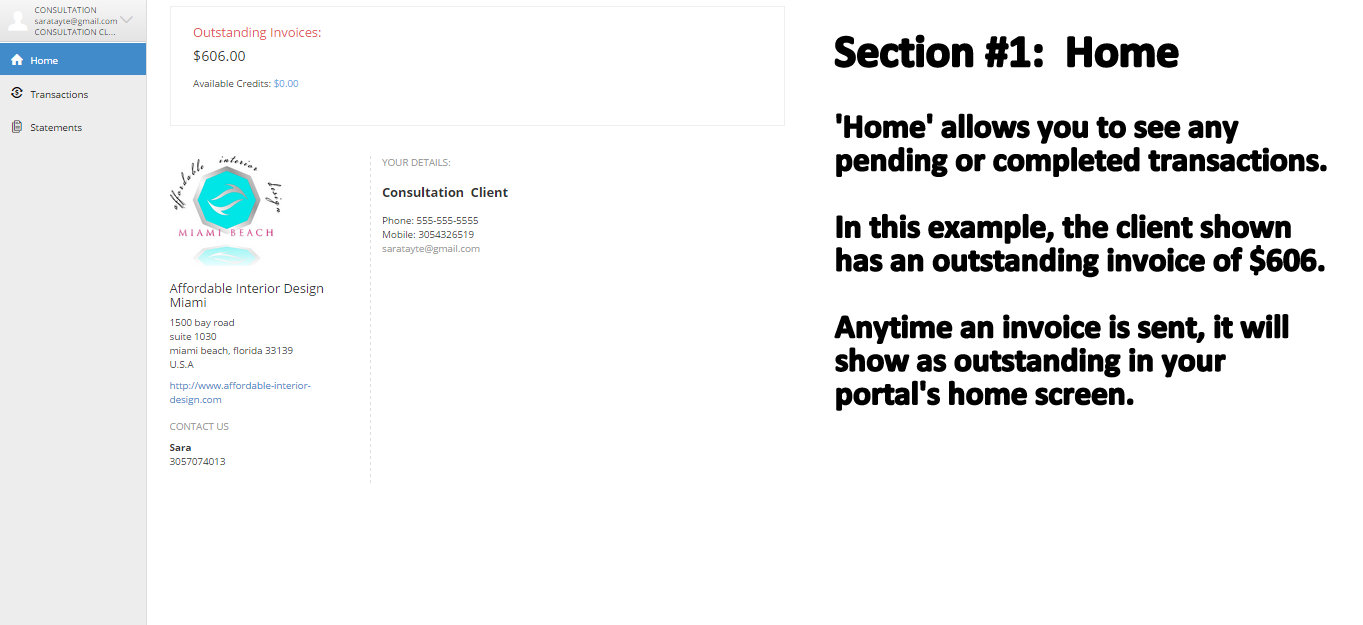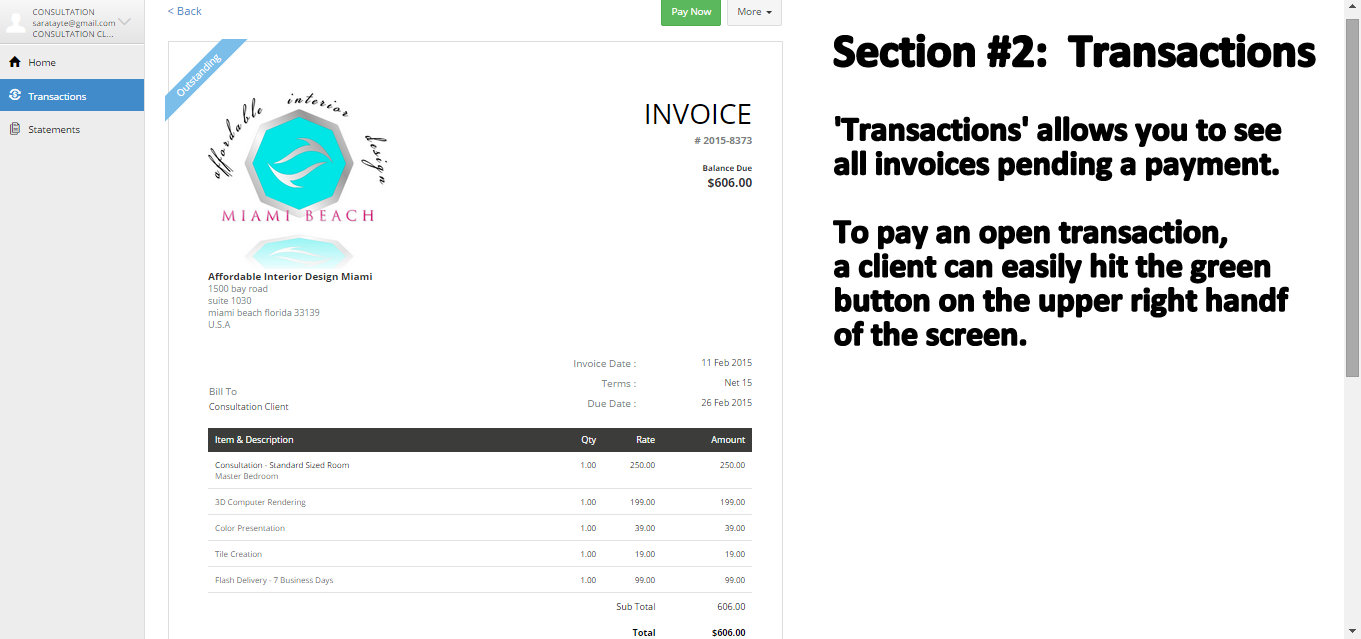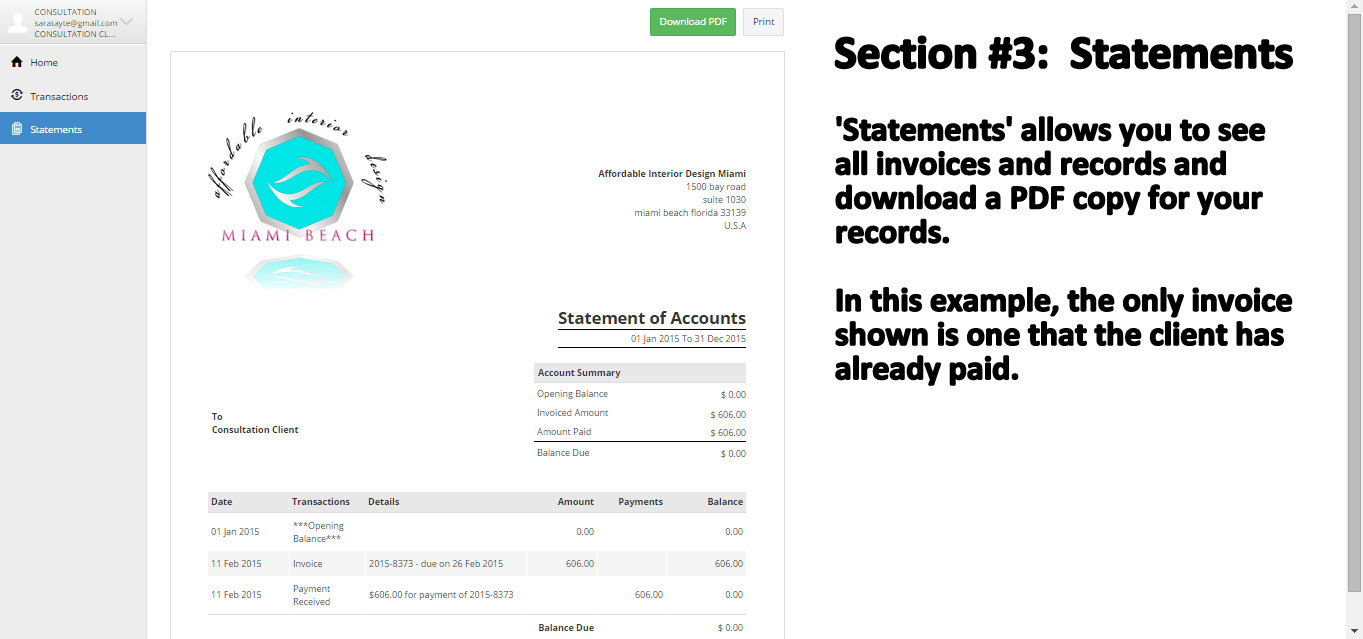 STEP Three: The in-home meeting
TIME: 1-3 Hours
Our designer will come to your home to complete the consultation. A photo analysis, will take place, helping us to understand and quickly pin-point the client's design style and preferences.
A series of photos are shown to the client that are specifically coded and labeled by our designer. Each code represents an attribute and design style genre. After completing this 'test', our designer will quickly understand what genre of design the client leans towards, and what decorations and trends they favor.
Over 20 different interior design style genres and over 600 different finishes, textures and specific attributes have been carefully and thoughtfully labeled by our designer.
For instance, if the client liked the photos from the examples above (click to expand the photos), we would know the client likes Eclectic, Modern and Contemporary styles. We can also see specific codings were favored such as colorful art (CO), creative light fixtures (L), and industrial finishes (I).
Codes can be read by the first letter of the interior design style followed by specific distinct features in the room.
The first photo would tell us specifically that the client favored a photo that is labeled:
Eclectic - Creative Light Fixtures, Contemporary Furniture, Colorful Art with a Light Color Palette.
Although one or two photos liked from one style genre code may not make a difference in the client's results, a strong repeated code-pattern by a client will give us important insight on exactly what they like, without them being able to verbally tell us.
Not only does this helpful process greatly eliminate errors in the purchasing/item phases, but allows us to 'read the mind' of a client. Sometimes clients do not know terminology of styles, shapes, textiles or other elements of interior design, but they know what they like. This process, hand created by our designer, fills in that very gap, thus ensuring a smooth design process there on out.
It is important to note that this Photo Analysis can be completed either an online guided phone call on this link here, or in-person through our iPad.
After the photo analysis is complete (around 30 minutes - 1 hour), notes are taken on all the items needed purchased for the home or contractor work that needs in-home estimates given from our vendor partners are documented for the e-List. Photographs and/or measurements are taken.
sTEP four: THE e-List
You will receive a webpage link, when you are ready and have specified when you would like to receive it.
Some clients who are moving into a new home, and won't be doing so for awhile, and other clients currently reside in the home they are consulting on.
E-lists can be delivered in as soon as one month, or be post-delivered to arrive when you move into your new home.
This will be delivered in the form of a webpage containing your results.
Your results are a mix of of:
Your photo analysis style results
What you told us you need to buy/change
What WE think you need to buy/change
A standard e-list contains 4 sections. There are 4 optional upgrade sections available for purchase.
Standard sections include:
1.) The Client Profile:
Who is the client? Who lives in the space? How is the space used? etc.. etc..

2.) Third Party Services Needed:
Does the space need flooring or window treatments? If so, these suggested services will be listed here. We can also have our partners give you free-in home estimates in any section of work that may need completed.

3.) Purchase List:
All of the items that both the client expressed wanting as well as what the designer believes should be purchased will be listed here. All items can be clicked and purchased through your e-List. We have a partnership with WayFair.com, a leading online shopping website containing hundreds of thousands of items from the world's leading stores and distributors, and our clients will receive 5% off their final bill when purchasing through the e-List, as well as enjoy easy shipping processes, a diverse and extensive array of item varieties and styles for our designer to choose from, easy item-return allowances if needed and 24/7 customer care from WayFair.com.

4.) Notes from the Photo Analysis:
Important notes for the client will be included at the bottom. If the client liked certain fabrics or textures from our analysis, they will be documented to further help the client when they decide to start the shopping phase.
Upgradable SECTIONS INCLUDE:
1.) 3D Computer Rendering
Some clients need a little extra help to see where the items will go once they are purchased. A 3D rendering will greatly help any confusion come time for the do-it-yourself decoration phase a client will endure. - **Consultation clients may also elect to hire our designer for a half-day of decoration once all the items are ordered. Contact us for more information on this service.**

2.) Flash Delivery
Do you need a certain room, or the whole project, completed within 7 business days of our meeting? Rush delivery is available.

3.) Color Presentation
If a client is stuck with colors and would like to visualize real paint colors virtually on their walls using our computer software, or have a color scheme created for them, then Color Presentation can be a very helpful & affordable add-on.

4.) Tile-Swatch Creation
If a client is interested in backsplash tile for the kitchen or shower, we can custom create swatches for you. These swatches can be inputted inside a 3D Computer Rendering or you can bring them to your contractor once you decide to purchase your tile.
Below is a brief example of what an e-list may look like.
Client Profile
Client Name: Miss. Allie Smith
Address: 555 Biscayne Blvd, Miami Florida
Client Profile: Client lives alone, but likes to entertain friends on the weekends. Client loves to cook, and has a slight problem with limited storage in the apartment.
Contractor Services Needed
Living Room: Window Treatments
Photo Analysis Notes
Client leaned heavily on Contemporary style furniture, but favored a lot of white wood and varying patterns on pillows and decor. Loved earthy and jewel tones and strongly disliked neon colors.